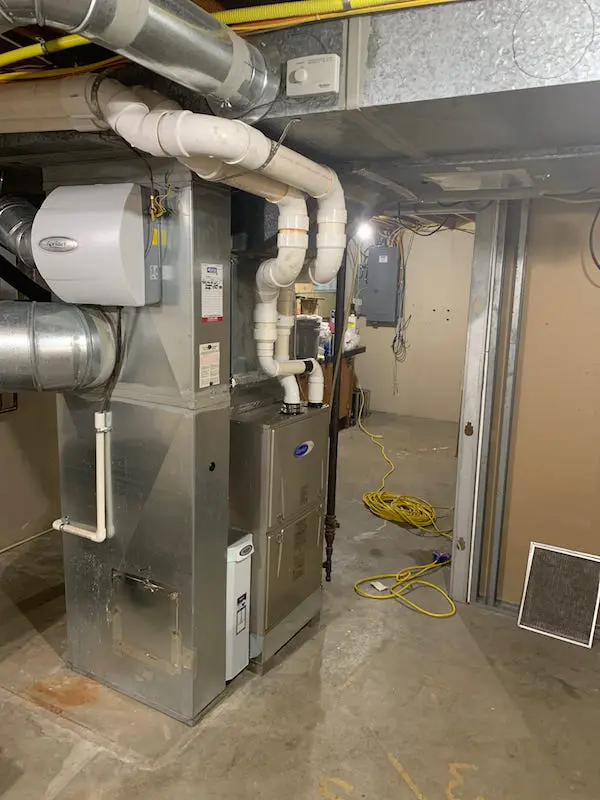 When it comes to HVAC repair in the Cincinnati area, you can count on Jansen Heating & Cooling. Our professional technicians will quickly diagnose the problem with your heating or cooling system, explain the issue in a clear and comprehensive manner, and with your go-ahead, perform a prompt, effective repair. Your satisfaction will be 100 percent guaranteed. The best HVAC contractors operate this way, and we're proud to count ourselves among them.
Our NATE-certified technicians only repair what's broken. With our upfront pricing guarantee, you'll pay the price you're quoted regardless of what work ends up being done. This is just one example of Jansen offering among the best warranties, guarantees and assurances in the HVAC industry.
For professional heating and air conditioning repair, Cincinnati offers a number of contractor options. Few, however, come with the reputation that Jansen Heating & Cooling enjoys. We have been providing quality service in the Greater Cincinnati area since 1953, taking great pains to keep up with advances in technology and training.
Our experienced technicians have seen it all. They can be relied on to make a prompt, expert AC, heat pump or furnace repair if one is possible, and, if not, recommend a quality, energy-efficient upgrade that fits your needs.
Proper HVAC Maintenance in Cincinnati = Fewer Repairs
It's simple. An ironclad rule of HVAC technology is that regular professional maintenance means fewer repairs. Jansen offers a Maintenance Club membership that provides homeowners with the heating and cooling maintenance procedures and frequency recommended by the equipment's manufacturer. This usually means twice yearly maintenance, once before the cooling season and once before the heating season.
Without proper maintenance, heating and cooling systems not only will break down more frequently; they will consume more energy to keep your home comfortable, and some rooms may never reach the desired thermostat setting.
Heating and cooling systems with haphazard or no maintenance also tend to give up the ghost earlier in their service life than systems that get regular professional maintenance. Twice-yearly preventative maintenance also minimizes the prospect of safety issues, especially with combustion furnaces.
(Homeowner maintenance is also essential: tasks such as regularly inspecting and replacing air filters and keeping vents and registers clear of impediment such as furniture and rugs. Jansen will be happy to discuss the best ways for you to do homeowner maintenance).
Common Issues Jansen Will Diagnose and Fix
System Blowing Room Temperature Air. One common issue homeowners experience with their central air conditioner is the system blowing air that's at room temperature rather than cooler. This may result from any of several malfunctions in the system, including something as simple as the thermostat not being set to "cool."
But it also could reflect:
a clogged air filter,
dirty coils,
a problem with the compressor or
perhaps an old, worn-out system that's ready to be replaced.
Overheated Compressor. In an AC or heat pump, a compressor that overheats is also a relatively common issue. If your compressor is overheating, your equipment might still cool and heat the house but a potentially expensive breakdown may be imminent.
Having to replace the compressor will result in an AC repair cost higher you can imagine, and often results in the homeowner being forced to replace the entire system. An overheating compressor may occur for any of several issues, including:
high head pressure caused by dirty heat-exchange coils,
an external electrical issue,
"superheating" caused by insufficient refrigerant in the system and/or
short cycling caused by a dirty air filter or a system with too much capacity for the size of your home.
Furnace Won't Turn On. This could be caused by several factors. Some of them require a professional heater repair. Potential causes include:

a defective or interrupted power source,
the furnace or thermostat being turned off,
the thermostat set to "cool" rather than "heat,"
an issue with the pilot light (older furnaces) or electronic ignition system, or
a safety sensor or blocked air intake pipe.

Banging or Rattling. If the furnace problems start with banging or rattling in the blower motor compartment, this could mean a loose or defective part.
Small Percussive Noises in the Furnace. These could be caused by partially blocked burners, with gas accumulating at the opening then igniting all at once.
Malfunctioning Blower Motor. A furnace that's not working also might be the result of malfunctioning blower motor or air handler (in a heat pump). If the blower isn't working, your central heating or cooling system won't circulate conditioned air.
Temperature Variances in Different Rooms. If you notice temperature variances in rooms in your home, either as a long-standing problem or something new, one potential explanation is poor airflow in the central heating and cooling system. This could be a result of:

a dirty air filter,
a malfunctioning blower motor,
blocked or closed registers or
defective, deteriorating or poorly-designed ductwork.
One good tip-off to airflow issues is when the temperature variances are occurring on the same floor or wing of the home, where one would expect more consistent temperatures between rooms.
These are examples of problems with your HVAC system that the trained and certified technicians of Jansen Heating & Cooling can quickly diagnose and propose a plan for addressing.
If the issues with your heating or cooling system become insurmountable, your technician likely will introduce the idea of a new HVAC installation. They'll discuss your options, and if you decide to move forward with a system upgrade, we will work with you to install the best possible HVAC system for your home.
For HVAC installation in Cincinnati, you can't do any better than Jansen.
HVAC Service in Cincinnati – Come to Us
Whether you're looking for the installation of a new heating or cooling system, regular maintenance or a minor or major repair, Jansen Heating & Cooling offers the experience, reputation, staff excellence, competitive pricing and guaranteed customer satisfaction you expect from the best.