For AC Repair in Cincinnati, You Have an Excellent Option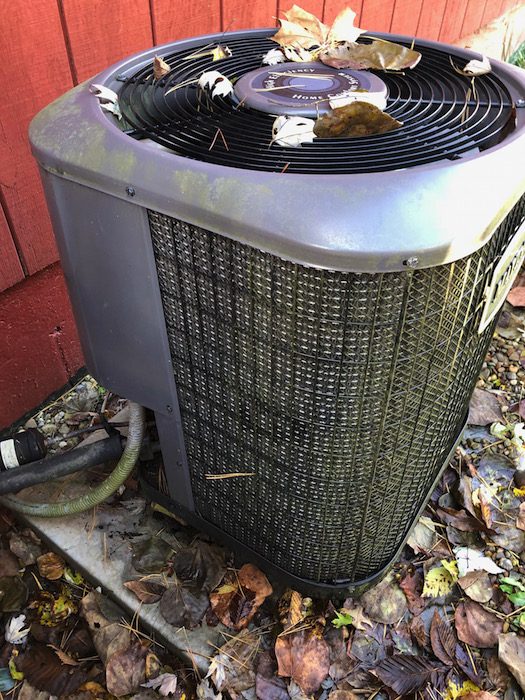 Picture this. It's mid-August, highs forecast in the 90s, you're having family in for the weekend, and on Friday afternoon, you notice the house is warming up.
You place your hand on the cooling register, and only lukewarm air is coming out. Or maybe the fan's not blowing at all. It's clearly time to call a Cincinnati AC repair contractor you can trust to come to your home, diagnose the problem and fix it as soon as humanly possible.
For a broken AC unit and other HVAC issues, there's no better option in the Greater Cincinnati area than Jansen Heating & Cooling. Our skilled, certified professional cooling and heating technicians have a stellar reputation for prompt, efficient and effective AC fixes, done at fair prices.
How do you know when your old cooling or heating equipment is ready for replacement? This AC condenser/compressor still has some life in it.
No Matter the Problem with Your AC, We Can Help
The Jansen technician first will determine whether your AC issue is a system that's not operating at all, or one that just isn't working as intended. There's a big difference between an air conditioner that won't kick on and one that seems to be operating but just isn't cooling or dehumidifying the air.
AC not operating:This could be a problem with the power supply:

a switch turned off,
a tripped circuit breaker,
an incorrect thermostat setting (such as the setting on "heat" rather than "cool"), or
some other electrical malfunction
If one of the first three things is the issue, you should check and correct those yourself before calling in a pro. However, the problem may be a mechanical breakdown, for instance, in the compressor or blower motor, which is a more serious issue that a professional technician will need to diagnose.
AC operating but not cooling: This could involve a whole range of issues, from the simple (registers blocked, air filter logged) to the more complex (dirty heat-exchange coils, low or leaking refrigerant).
If the inadequate cooling is happening in certain areas or rooms rather than the whole house, the problem likely is related to air distribution – the ductwork or registers serving that area.
Unless you can find an easy AC fix yourself, your trusted Cincinnati air conditioning service company will need to figure out what's wrong and fix the issue quickly so you can enjoy your weekend guests.
For heating system problems, the same guidelines apply with regard to choosing an experienced, respected HVAC company.
Pick the Contractor Your Neighbors Trust
A great option for this type of work is Jansen Heating & Cooling, a high-quality Cincinnati HVAC contractor with decades of service to the local community.
Like the best AC companies everywhere, Jansen realizes that customers won't keep coming back without prompt, affordable, expert service.