Whole Home Air Purifiers in Cincinnati
At Jansen Heating and Cooling, we pride ourselves on keeping you and your family comfortable and (to the extent we can) healthy year-round.
While many of our competitors only focus on keeping your Cincinnati-area home warm in the winter and cool in the summer, Jansen offers a variety of indoor air solutions to keep your indoor air not only comfortable, but also healthy. After all, you won't be very comfortable if your allergies are acting up–or airborne contaminants are triggering other health issues.
To schedule a free, no-obligation appointment with one of our installation advisers to learn more about Jansen's entire line of indoor air quality system enhancements, click here.
How Whole Home Air Purifiers Work
According to the U.S. Environmental Protection Agency, your home's indoor air may be two to five times more polluted than the air just outside your front door, In some cases, it can be as much as 100 times as foul.
Without effective filtration and ventilation, contaminants such as
bacteria,
volatile organic compounds (VOCs),
viruses and
allergens
can get trapped in your home.
Our whole home air purifiers can help eliminate these pollutants, allowing your family to breathe cleaner, more comfortable air!
Whole-House vs. Room Air Purifiers
While room air purifiers are also available, we like whole home purifiers for these reasons:
Every room in the house is cleaner
The system is invisible in the ductwork
The system is quiet
It is great for homes with pets that use the whole house
People with allergies aren't confined to a single room
Introducing the iWave Air Purifier
The iWave whole home air purifier is easy to install in any duct air conditioning system. As your system's air passes over the iWave, it produces ions that reduce pathogens, allergens, particles, smoke and odors in the air.
This creates a healthier breathing environment for you and your family, without producing any harmful byproducts. The iWave uses a patented technology that creates an equal amount of positive and negative ions to break down passing pollutants and gases when they are injected into the air stream.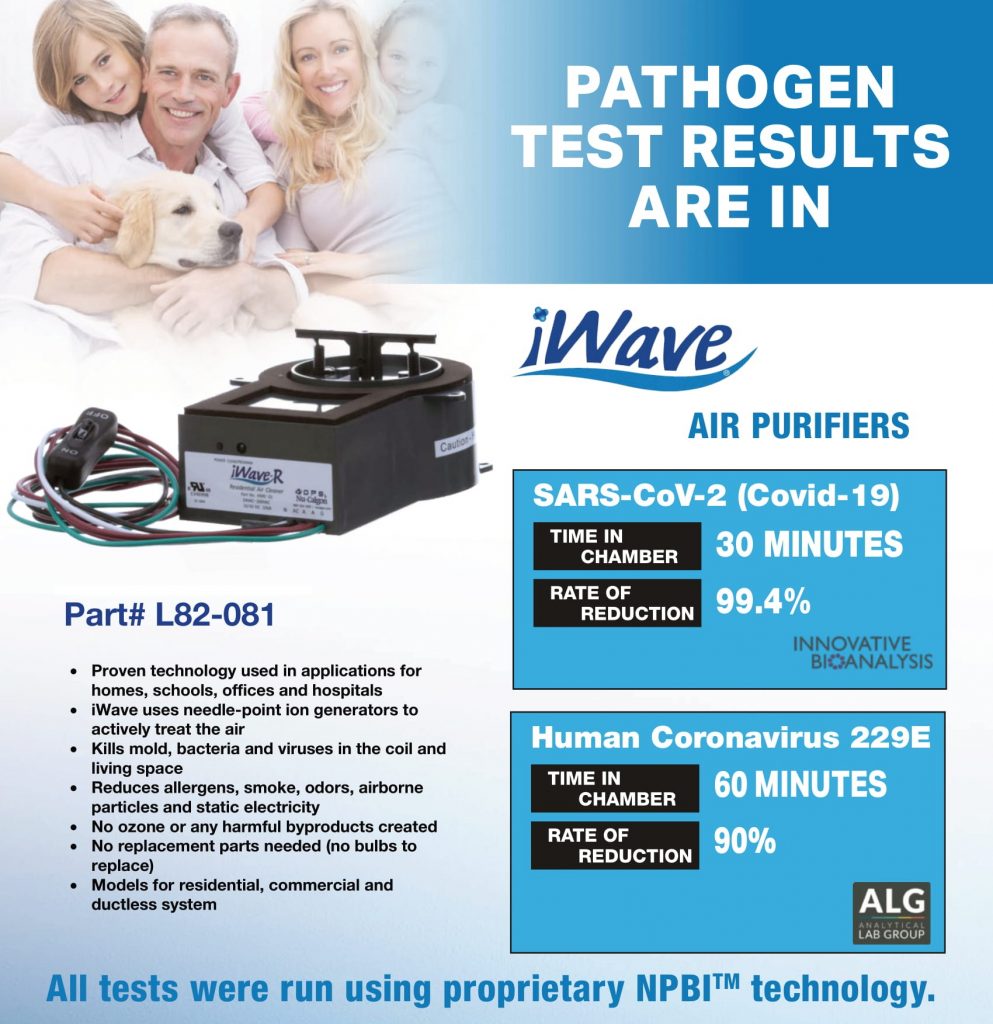 Product Features
Proven technology used in applications for homes, schools, offices and hospitals
iWave uses needle-point ion generators to actively treat the air
Kills mold, bacteria and viruses in the coil and living space
Reduces allergens, smoke, odors, airborne particles and static electricity
No ozone or any harmful byproducts created
No replacement parts needed (no bulbs to replace)
Models for residential, commercial and ductless system
Explore the Whole Home Air Purifiers Available from Jansen
Curious about an effective air purifier for your home? Contact Jansen Heating and Cooling, proud to be counted among Cincinnati's Best HVAC contractors, for more information.