Once you've decided to replace your home's central cooling or heating system, we're here to help. This applies whether your motivation is to save energy with a more efficient system, your existing system has stopped performing at a satisfactory level, or heater or AC breakdowns have become more frequent. Most homes in our area utilize one of the following approaches to central, forced-air heating and cooling: a combustion furnace (usually natural gas) with an electric air conditioning system; an electric air-source heat pump for both heating and cooling; or a dual fuel system that combines an air-source heat pump with a fuel-burning furnace.
The best system for each home depends on the cost and efficiency of the equipment, annual energy use, what system your home is already outfitted for, and the local price and availability of energy sources. Of course, some people just prefer one type of comfort system, which is OK, too. In most homes, any of these systems, if designed and installed properly, will deliver personal comfort at an affordable cost.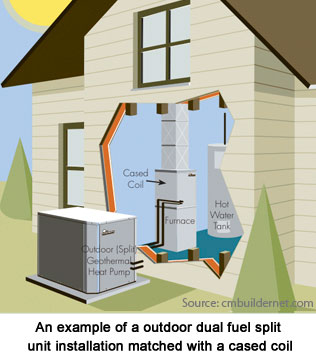 We realize that the decision to replace is a big one, so we want you to know what to consider and expect. Dual-fuel systems that include a high-efficiency heat pump, with a gas furnace providing dependable and comfortable auxiliary heating, are rapidly becoming more popular as replacements for more traditional heat pump and AC/furnace systems. They not only provide reliable heat even in extremely and/or prolonged cold weather; they give you an option of which fuel to use, if market conditions change for electricity or natural gas.
Start With A Home Comfort Survey
The best place to start is with Jansen Heating and Cooling's Home Comfort Survey, to help you quickly identify your requirements for:
Specific home uses or needs such as special air conditioning requirements due to a home office, exercise room or other unique home use; whether you entertain frequently; the number of floors in the house (including whether it has a finished basement); and whether some unused rooms are often closed to heating and cooling.
Comfort requirements and conditions unique to your home such as stale air problems, specific rooms or floors that are too hot or too cold, system noise levels, or air that is too humid (muggy) or too dry (e.g. static electricity, dry throat or skin). We'll need to know if you prefer a warmer or cooler home as well (since different people have different preferences).
Health/safety requirements such as indoor air quality, respiratory conditions, humidity control and/or
child safety concerns related to your HVAC system.
Property requirements such as whether you are planning home renovations or adding on to your home
Financial requirements such as the importance of saving money on energy consumption and operating costs, working with a contractor who can protect a homeowner from risk and liability, and/or your wish to explore financing options. With regard to energy efficiency, the potential for better air sealing and insulation will be explored as a way to save money, too. If you don't currently use a programmable thermostat, this also will be addressed.
Schedule a Free Appointment
To schedule a free, no obligation appointment with one of our installation advisers to learn more about Jansen's entire line-up of hybrid heating & air-conditioning systems and system enhancements, please click here. Jansen Heating and Cooling is among the top HVAC contractors in Cincinnati.